Orion Global Is Now ISO 9001:2015 & 27001:2013 Accredited!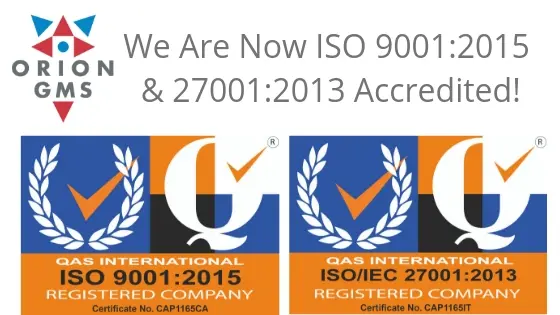 We are delighted to announce that after a rigorous evaluation process, Orion 247 is fully accredited for both the ISO 9001:2015 (Quality Management) and 27001:2013 (Information Security) standards.
Gaining accreditation of these internationally recognised standards demonstrates our commitment to providing a consistently high quality of service to our customers alongside ongoing investment in development, technology, processes and procedures.
ISO 9001:2015 standard is underpinned by risk based thinking and requires active engagement of employees at all levels of the business. The benefits of an established Quality Management System reach far beyond customer satisfaction and assurance, the accreditation enhances the professionalism of the business' operations and creates a culture of exceeding expectations.

Recognised as the standard for Information Security Management, the ISO 27001:2013 accreditation demonstrates that the company has put in place information security controls to defend against potential system vulnerabilities. This ongoing management system will evaluate these controls regularly to ensure they remain efficient and consistently meet the needs of our customers and the business as a whole.
"I am extremely proud of my team for their achievement. Becoming ISO 9001 & 27001 accredited is another great landmark for Orion and demonstrates our collective commitment to meeting and maintaining a consistently high quality of service for our customers. The company is dedicated to continuous improvement and by achieving these certifications we have proved that we have the processes and systems in place to do this."

– Chris Liversidge (CEO, Orion 247)
If you have any questions or would like to know more about our certifications, please contact us on sales@orion247.com or call our head office: +44(0)1756 633 882.