Orion 247 Proudly Sponsor Leeds United Football Club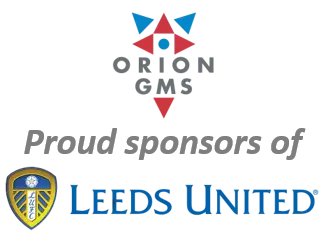 We're football crazy, we're football mad here at Orion 247! The welcome of Autumn has bought with it some very exciting news – we are delighted to announce that we are now proud sponsors of Leeds United Football Club. The two year sponsorship deal will elevate Orion's profile to a brand new level, whilst supporting the efforts of Leeds United within the local community and further afield.
"We believe strongly in supporting our community and working with a forward thinking, dynamic football club such as Leeds United is allowing us to do just that," commented Chris Liversidge, CEO of Orion 247.
Chris is a lifelong supporter of the club and attended his first match back in 1963. He can still give a full match by match report for most the games he has attended, he has supported the club through thick and thin and is ecstatic that Orion 247 will be working closely with the club.
"I am really impressed with the new digital media technology that is used at Elland Road, it will allow us to try something a bit different from the usual and to reach out to a different kind of audience," continued Chris.
Leeds United was founded in 1919 and is now the biggest sports club within Yorkshire. The club's ground, Elland Road seats a capacity of 37,890.
The first match featuring Orion's digital sponsorship is against Sheffield United tomorrow night (Friday 27th October), kick off at 19:45 live on Sky Sports. Look out for our logo on the big screen, follow us on twitter and tweet us when you see it to be in with a chance of winning complimentary tickets to any home game of your choice!